Bike Repair Stations on the O'Keefe Rail Trail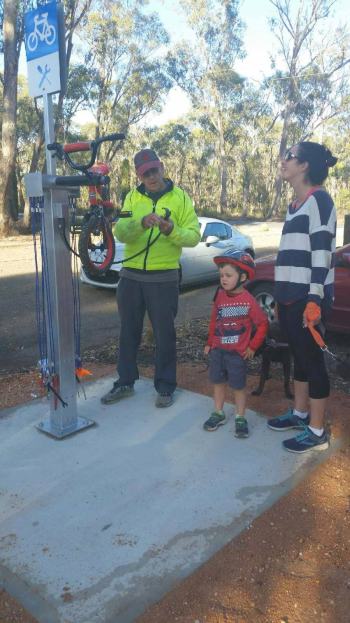 The Friends of the Bendigo Kilmore Rail Trail, with funding provided by Strathfieldsaye and Districts Community Enterprise, have installed two bike repair stations along the O'Keefe Rail Trail in northern Victoria. One is located in the centre of Axedale, it is also be available for use by local residents, school students and visitors to the township. The station provides a bike rack while working on the bike, repair tools as well as a foot operated air pump for inflating bike tyres. The other repair station is located adjacent to the rail trail's car park, off Wilkie Rd Junortoun.
This is relatively new innovation on regional trails. With support provided by Council staff and Cr Wrigglesworth, the approval process allowed for a timely installation to take place in Axedale. "With no local bike repair businesses in towns like Junortoun, Axedale and Heathcote, such facilities will provide confidence for cyclists planning to use the 49km rail trail" said Garry Long President of Friends of the Bendigo-Kilmore Rail Trail. "A similar bike repair station is expected to be installed in Heathcote's Barrick Reserve in the near future, funded by several Heathcote community organisations."
Two potable water stations have also now been installed for access by O'Keefe Rail Trail users, one located adjacent to the trail near Bennetts Rd Junortoun and the other in Axedale Park Axedale. With involvement of Coliban Water and City of Greater Bendigo, these stations are a welcomed facility by trail users while using all or part of the rail trail.
"The Friends group has been advocating for the provision of potable water access along the trail, so we are very pleased with both Coliban Water and Council becoming involved to provide them." said the Friends' Planning Team member Lindsay Clay "The water stations are expected to save the purchase of many plastic bottles of water, which usually get discarded". Easy access to these potable water facilities will no doubt be welcomed by local residents in these two areas, plus visitors to the Axedale Park and adjoining Hall that are the focal point for Axedale's community activities and events.