Bike Repair Stations on the O'Keefe Rail Trail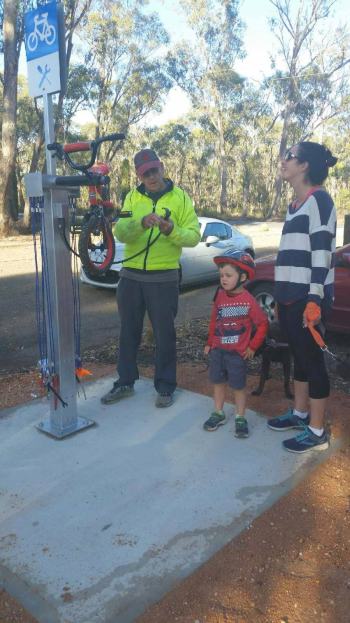 The Friends of the Bendigo Kilmore Rail Trail, with funding provided by Strathfieldsaye and Districts Community Enterprise, have installed two bike repair stations along the O'Keefe Rail Trail in northern Victoria. One is located in the centre of Axedale, it is also be available for use by local residents, school students and visitors to the township. The station provides a bike rack while working on the bike, repair tools as well as a foot operated air pump for inflating bike tyres. The other repair station is located adjacent to the rail trail's car park, off Wilkie Rd Junortoun.
This is relatively new innovation on regional trails. With support provided by Council staff and Cr Wrigglesworth, the approval process allowed for a timely installation to take place in Axedale. "With no local bike repair businesses in towns like Junortoun, Axedale and Heathcote, such facilities will provide confidence for cyclists planning to use the 49km rail trail" said Garry Long President of Friends of the Bendigo-Kilmore Rail Trail. "A similar bike repair station is expected to be installed in Heathcote's Barrick Reserve in the near future, funded by several Heathcote community organisations."
Two potable water stations have also now been installed for access by O'Keefe Rail Trail users, one located adjacent to the trail near Bennetts Rd Junortoun and the other in Axedale Park Axedale. With involvement of Coliban Water and City of Greater Bendigo, these stations are a welcomed facility by trail users while using all or part of the rail trail.
"The Friends group has been advocating for the provision of potable water access along the trail, so we are very pleased with both Coliban Water and Council becoming involved to provide them." said the Friends' Planning Team member Lindsay Clay "The water stations are expected to save the purchase of many plastic bottles of water, which usually get discarded". Easy access to these potable water facilities will no doubt be welcomed by local residents in these two areas, plus visitors to the Axedale Park and adjoining Hall that are the focal point for Axedale's community activities and events.
Advocacy Training Workshop – 2019 Bicycling Summit
Posted on 08/04/19
The 2019 Bicycling Summit will be held on the 14th and 15th of May in Melbourne and includes a workshop on developing advocates.
If you're passionate about cycling and/or thinking you could do with better advocacy skills to get your rail trail built or improved then this could be of great value.
Checkout the We Ride Australia website here for more detail.
Note that early bird registration fees close on the 15th April.
Want to ride the KKRT? Don't have a bike ? Hire bikes are comming.
Posted on 23/03/19
People who would like to cycle the South Burnett Rail Trail but don't own a bicycle will soon be able to hire one from the Kingaroy or Wondai Visitor Information Centres
The South Burnett Regional Council will conduct an 8-week trial of free bicycle hire soon to test if there's a local market for this type of service.
Both  Visitor Information Centres are located right on the rail trail.
Buses run daily from Caboolture Station to Kingaroy and Wondai making the Sout Burnett Rail Trail esay accessible for people living on the Sunshine Coast and Brisbane.
Where :     128 Haly St           Kingaroy     (07) 4189 9172  
                     or
                     80 Haly St            Wondai      (07) 4189 9251
 When:   The free pilot project runs for 8 weeks out of the Kingaroy and Wondai Visitor Information Centres                                          commencing 15 April 2019.  
for more information on the SBRT CLICK HERE
Come and celebrate the opening of the extention of the Atherton Rail Trail Saturday 23 March 2019.
Posted on 18/03/19
Tablelands Outdoor Recreation Association Inc. are pleased to advise that the official opening of the shared trail between Platypus Park and Hastie Road is being held on Saturday 23 March 2019 at 11.00am near the beginning of the trail (and Station Cafe), Weaver Street, Atherton.
You are all invited to come along and take a walk or ride along the trail, and share in the celebratory cake cutting! It will also give you a chance to hear about future plans for the region.
The trail was constructed as part of a grant that TORA obtained from the Queensland Government'
Department of National Parks, Sport and Racing's Get Playing Places and Spaces Program an through                   cooperation with the Atherton Herberton Historic Railway group.
To veiw drone footage click here
Thanks to Grounds Creations for this footage
Photo: Tablelands Outdoor Recreation Association Inc
Queensland Government Rail Trail Grants Program
Posted on 11/03/19
Just in case any rail trail proponents in Queensland weren't aware, the Queensland Government is investing up to $14 million over 4 years between 2017-18 to 2020-21 to support local governments to plan, design and construct rail trails.
The Department of Transport and Main Roads is responsible for administering the Rail Trail Local Government Grants program.
Full details can be found at the Department's website here.
Have Your Say on the Future Development of the Capricorn Coast Rail Trail
Posted on 30/01/19
Livingstone Shire Council based in Yeppoon, central Queensland, is seeking feedback for Stages 2,3 and 4 of the Capricorn Coast Pineapple Rail Trail.
Stage one, which is open, includes a 5 kilometres of constructed trail within Yeppoon.
Council is currently completing a planning project and feasibility study for the future development of stages 2, 3, and 4 of the Capricorn Coast Pineapple Rail Trail which would extend the trail from its currently alignment in Yeppoon, through to the Mount Chalmers community, extending the overall length of trail to 26 kilometres.
Livingstone Shire Council encourages  locals, intrastate and interstate persons or other stakeholder to give feedback vis an online survey.
To participate in this survey click  HERE. The survey will close Friday 1 March 2019.
Or visit  https://getinvolved.livingstone.qld.gov.au/local-community-consultation-capricorn-coast-pineapple-rail-trail-yeppoon-to-mount-chalmers
For more information about this rail trail click   RAIL TRAILS AUSTRALIA Webpage
Bridge on the undeveloped section of the Pineapple Rail Trail   (Photo  LSC)
The survey will close Friday 1 March 2019
South Burnett Rail Trail Users Association Meeting (SBRTUA)
Posted on 29/01/19
Come along and chat about what we, as an association can do to "value add" to our wonderful South Burnett Rail Trail.
When: 18th February 2019 at 7pm.
Where : Wondai Art Gallery Meeting Room
Mary to the Bay Rail Community Consulation Sessions
Posted on 29/01/19
Fraser Coast Regional Council are holding two Community Consulation Drop In Sessions about the planned extention of the Rail Trail from Marybourgh to Hervey Bay.
You are encouraged to attend a drop-in session for more information,where you will see images from other rail trails showing how common issues are dealt with.
You will also be able to talk to the consultants about issues you have or opportunities that you see arising from the trail development.
Where : Maryborough,In the Reception Room , Marybourgh City Hall
When : Wednesday 30 January from 5pm to 7.30pm.
OR
Where : Hervey Bay, In the Creative Space, Fraser Discovery Centre
When : Thursday 31 Janurary from 5pm to 7.30pm.