Rail Trail

On Road

Potential Rail Trail

Other Trail

Former Railway
Rail Trail

On Road

Potential RT

Other Trail

Former Railway
View Map
A well established easy rail trail that provides options of half- or full-day rides between Bendigo, Axedale and Heathcote through box ironbark and yellow gum woodland and grazing farmland, across the Campaspe River and past Lake Eppalock
Take a two-hour train ride from Melbourne to Bendigo, ride 23km to Axedale Tavern for a country pub lunch, then head for home or ride on and stay overnight in Heathcote and enjoy all these regional towns have to offer.
Click on the Get Around section below for public transport options, including bikes on buses.
Nearby Attractions
A stunning new bridge across the Campaspe River
Heathcote is an attractive town with several accommodation options, a new brewery and is well known for its quality shiraz wines
The Pink Cliffs Geological Reserve is close to town and shows off colourful eroded cliffs that remain from sluice mining
Last updated: 20 October 2023
Sites of former stations are marked on the map but generally little remains of them. The Friends of the Bendigo Kilmore Rail Trail have erected replica station signs and are recreating sections of platforms to add to the experience of the rail trail.
Wildflowers, including orchids, appear in spring.
Access Points
Bendigo – at the north western end of Lake Weeroona, off Weeroona Ave. Parking is available next to Bendigo Rowing Club rooms
Cafe and toilets around the lake area
Bendigo station is 3 km south on Railway Place
East Bendigo – Pratts Park Rd (parking on Rifle Range Rd)
Junortoun – car park off Wikie Rd
Longlea – park along Longlea Lane
Axedale – corner of High St (McIvor Hwy) and Mitchell St at Axedale Public Hall: parking, playgrounds and toilets
Knowsley Forest – an entry point for the trail is near the intersection of Toolleen-Axedale Rd and McIvor Hwy; this leads into Knowsley Forest near the power line transformer pole. Note: take care entering and leaving McIvor Hwy
Knowsley – parking near where the trail crosses Moorabbee Rd at Knowsley Tennis Courts
Derrinal – a trail rest stop and replica station name board is opposite the former Derrinal Railway station, off Old Bendigo Rd, (park on the side of Old Bendigo Rd)
Heathcote – carpark off Herriot St at the new rail trail shelter. Heathcote Visitor Information Centre, corner of High and Barrack Sts, has parking and trail information, or at the end/start point of the trail at Pink Cliffs Rd.
For public transport and bike repair options click on "Get Around" below.
Section Guides
North Bendigo to Axedale (23 km)
From Lake Weeroona, follow the Bendigo Creek Trail north to a T intersection and turn right to begin the trail
Cross Midland Hwy with care and go through the brick-lined culvert beneath the Bendigo–Echuca railway line
Bendigo Bushland Trail crosses the trail at Markovitch Lane
At the 4km point a trail branches to the north (to the former Department of Defence ammunition storage facility, Rangelea siding): follow signs for the main trail
Take care crossing the McIvor Hwy next to the Baptist Church at Junortoun
At 12 km is Axe Creek, with a new at-grade bridge and a possible stop for a picnic
The trail passes the former Axedale station before reaching Axedale Racecourse station
The trail now diverts off the original railway alignment to follow a newly built sealed trail into Axedale township
Continue within street reserves down to River Reserve on the Campaspe River frontage, where there are picnic tables and art installations
Axedale has drinking water, toilets, a general store and Axedale Tavern.
Axedale to Derrinal (17 km)
Dec 2022 – Some sections have a rough surface due to flooding that will be repaired in the first quarter of 2023.
The trail follows an underpass beneath McIvor Hwy, then crosses a rail trail bridge north of the highway over Campaspe River
The trail meets quiet Ingham Rd; follow this up the hill to the dedicated trail
Take care crossing McIvor Hwy near the Toolleen-Axedale Road
The trail now enters Knowsley Forest. Within the forest there is the Smart Track Day Visitor Area, about 800 m north-east from the rail trail's intersection with Smart Track. This area has toilets, a shelter with gas BBQs and table-seats, an interpretive sign/sculpture, and a water dam. This area is also accessible by motor vehicles via Smart Track from the McIvor Hwy.
Once reaching the Old Railway Dam, the trail returns to the former railway alignment within the Forest.
After Knowsley, the trail passes Moorabbee Hill Rest Stop where table-seats and bike racks provide an opportunity to relax and enjoy views of the Great Dividing Range.
The trail continues into Lake Eppalock, which originally flooded a section of the original railway. A purpose-built trail causeway and the 90 m Mt Ida Creek bridge allow the trail to stay close to the original alignment. There is another picnic area on the causeway giving views of the lake.
There is a trail rest stop and replica station name board opposite the former Derrinal station (now on private property) off Old Bendigo Rd.
NOTE: trail users should respect all privately owned land. Take care crossing cattle grids between Knowsley Forest and Derrinal.
Derrinal to Heathcote (9 km)
The trail skirts McIvor Hwy and enters One Eye Forest near Hills Rd
'Rail trail users only' status continues from Hills Rd to the Mia Mia-Derrinal road section, but take extreme care on the shared section between Mia Mia-Derrinal road and  Burnt Track shared, especially at several narrow areas
The last trail bridge in One Eye Forest is located directly above a complete section of an original, yet once much longer 1888 timber railway bridge.
The Heathcote trail head is located at Herriott St where there is a unique timber shelter, local information and maps.
Heathcote Visitor Information Centre, corner of High St and Barrack St, provides trail information and parking.
Heathcote is a medium sized regional town with most facilities and options for food and drink.
Start of the rail trail proper at Napier St in Bendigo [2023 Garry Long]
A grand entrance to the rail trail under the Bendigo - Echuca railway (2016 Bendigo Tourism Bradd Worrell)
The only original bridge on the outskirts of Bendigo (2009)
One of numerous bridges between Strathfieldsdaye to Axe Creek [2013]
Typical scenery between Strathfieldsdaye to Axe Creek [2013]
Crossing the Axe Creek bridge between Junorton and Axedale [City of Greater Bendigo, 2015]
The Friends of the Bendigo Kilmore Rail Trail have put a huge amount of work into recreating Axedale station and restoring a once ubiquitous goods wagon [Colin Scott 2020]
The rail trail passing safely under the busy highway at Axedale [Garry Long, 2019]
Cruising betweem Axedale and Heathcote. (2016 Bendigo Tourism Bradd Worrell)
The trail enters the forest at Knowsley (Andrew Lecky 2019)
The Friends of the Bendigo Kilmore Rail Trail have also partially recreated many other station sites [2016]
Picnic area on the causeway of a full Lake Eppalock. It has been this way for several years but can also be completely dry [2023 Garry Long]
Lake Eppalock was at 100% in the spring of 2016 (Brad Worrell)
Riding across the long Mount Ida Creek bridge which is now part of a very full Lake Eppalock [2023 Garry Long]
Lake Eppalock at 100% when the rail trail is still passable, it is not when the lake gets higher. [Graham Hosking / Heathcote Tourism and Development, 2016]
Enjoying the scenery near Derrinal [2023 Garry Long]
Forest scenery approaching Heathcote (2015)
Family time on the rail trail (Les Lewis 2015)
Walkers passing Bald Hill, approaching Heathcote [2013]
Spring time near Heathcote (2015)
There are no remains of the former Heathcote station site [2015]
Community groups have contributed to turning the access point at Heathcote from a bare paddock into a feature (Andrew Lecky 2019)
Heathcote has many historic buildings and one of the longest main streets in Australia [2019]
One of three water and bike repair stations at Junortoun, Axedale and Heathcote. (Ken Hanson 2019)
The volunteer Friends of the Rail Trail have made and installed replica mile posts (distance from Melbourne) along the trail [2011 Garry Long]
Plans are being developed to extend the rail trail south towards Kilmore to pass through other historic towns such as Tooborac [2012]
The impressive Mollison Creek bridge at Pyalong would be a landmark of the extended rail trail but likely to be too expensive to open for trail users [2011 Garry Long]
The former rail corridor south of Pyalong [2013 Garry Long]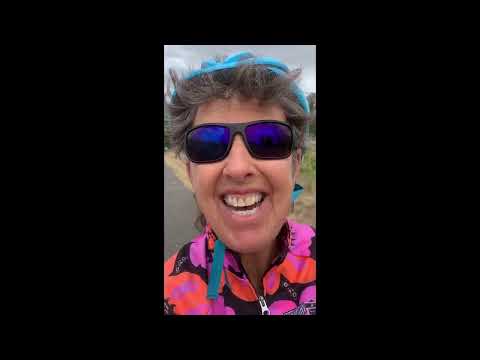 Comedian Tracy Harvey visits the O\'Keefe Rail Trail.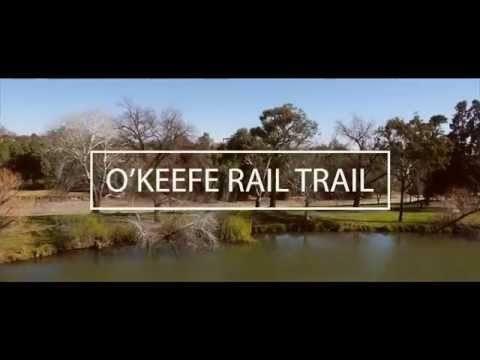 Wonderful view of the rail trail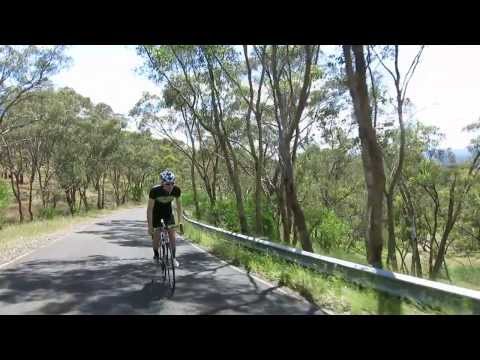 Ideas for other rides in the area
The Friends of the Bendigo-Kilmore Rail Trail, with the assistance of awarded community grants, its own funds/volunteer labour plus cooperation from the trail manager (City of Greater Bendigo), have installed a bike repair station and water station adjacent to the trail's Wilkie Rd car park Junortoun, a water station east of Bennetts Rd Junortoun, plus a bike repair station and water station adjacent to the toilets in Axedale Park, Axedale. There is also a local community provided bike repair station at the Heathcote Visitor Information Centre.
The Bendigo-Heathcote PTV bus service has an external two-bike carry rack, for its customers. It's a 'first come, first served' rack, with no pre-booking possible. A number of bus stops are close to the trail, refer to the PTV web page for map and timetables. This bus service does not have the MYKI card facility. So be sure to take a credit or debit card or some cash with you when heading out on the O'Keefe Rail Trail.
Goldfields Bike Tours & Hire – Unique opportunity to experience hybrid or E-bike riding to explore the rail trails and in conjunction with an air conditioned bus and 15-bike trailer.
Information and Links
Rail Trail Management and Inquiries
RTA endeavours to keep our rail trail information up to date but for any enquiries regarding management of the rail trail including the current state, or to report any issues, please contact the rail trail manager.
This rail trail is managed by the City of Greater Bendigo.
Website: (www.bendigo.vic.gov.au)
Email: requests@bendigo.vic.gov.au
Phone: 1300 002 642
Rail Trail Supporters
The Friends of the Bendigo – Kilmore Rail Trail is a local volunteer group that has been very active in developments on this rail trail, runs events, participates in working groups and carries out physical improvements on the rail trail.
Refer to Friends of the Bendigo – Kilmore Rail Trail for further information and news, and contact details as they welcome more involvement.
Further Information
The City of Greater Bendigo has invested a lot in this rail trail and would appreciate your feedback about your experience here (Don't forget to add a Review at the tab above)
Other riding and walking options.
Bendigo Tourism website. The Bendigo Visitor Information Centre is located in Pall Mall, Bendigo.
Heathcote Visitor Information Centre
Background Information
Traditional owners
We acknowledge the Dja Dja Wurrung and Taungurung people, the traditional custodians of the land and waterways on which the rail trail is constructed.
Development and future of the rail trail
Mitchell Shire Council received a Feasibility Study in 2018 that considered:
an extension of the trail from Heathcote to Wallan (connecting with the railway passenger service between Melbourne to and Wodonga)
a link between Wallan and the Craigieburn Bypass Trail and then to Melbourne's network of bicycle trails
a linking trail between Kilmore to Tallarook and the start of the Great Victorian Rail Trail
The Friends Group have produced two brochures outlining the vision for the first two sections.
The Friends of the Bendigo-Kilmore Rail Trail group is working with the City of Greater Bendigo and the Campaspe Shire to investigate creating a Heathcote Rushworth Trail (route referenced in the Heathcote to Murchison Trail Business Case (outline brochure here), that would link the Murchison-Rushworth (Waranga) Rail Trail to the O'Keefe Rail Trail.
Campaspe Shire is seeking funding to construct the Heathcote to Murchison Trail (outline brochure here) to complete the Murchison-Rushworth (Waranga) Rail Trail and link it to with the O''Keefe Rail Trail.
Rail line history 
This line was built in 1888 by Andrew O'Keefe to link Bendigo and Heathcote, from where here the it line continued to Heathcote Junction, near Wallan, on the North Eastern main line.  The Heathcote – Bendigo section of that line closed in 1958 (as the construction of Lake Eppalock reservoir was taking place and the rest of t)  This lightly -trafficked branch line was then was completely closed by 1968.
The first section of a rail trail between Bendigo and Axedale was opened in 1993 (by the former Shire of Strathfieldsaye Council. The second stage constructed and opened in 1999 (built by current City of Greater Bendigo Council), though like its the former railway, it was basic affair with rough surface and many low- level crossings.
The potential was there though, and in 2009 the Friends of the Bendigo – Kilmore Rail Trail was formed by locals to lobby for the extension of the rail trail and advise the councils.  In 2010, the Bendigo Council and the Victorian Government committed to a significant upgrade of the rail trail, including installing bridges on the Axedale section, and extending it a further 26 km extension to Heathcote. This work was completed in 2015.
Trail descriptions are maintained by volunteers. Please consider a
donation
to help improve this website. Rail Trails Australia gets no government funding.