Northern Rivers Rail Trail Moving Ahead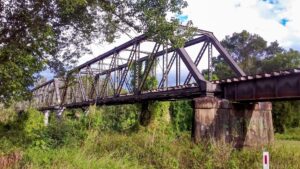 With the Tweed section of the Northern Rivers Rail Trail reaching the conclusion of construction in March, walkers and cyclists will soon be enjoying the stunning scenery of the Tweed Valley.
The official opening date is set for 1 March, and we will soon provide an update on the public celebrations for this opening.  From all reports the trail is shaping up to be a world class attraction with heritage bridges, tunnels and a combination of hard packed gravel and sealed surfaces.
As reported in the Lismore News, the timeline was released for the 16.3km section of the rail trail from Lismore to Bentley which will join the Casino to Bentley section being constructed by the Richmond Valley Council.
Designs for these sections are being finalised.  Richmond Valley Council, having built their test section, will start construction soon. The design for the section to be managed by Lismore Council will be finalised by July 2023 and construction is planned to start in August 2023.
Hopefully these two sections will be open sometime in 2024, which will leave the Byron Council section as the "missing gap" in the full Northern Rivers Rail Trail.
Once the whole rail trail is open, the Northern Rivers Rail Trail will take its place in the world as one of the epic multi-day cycle rides attracting national and international visitors. Rightfully so, as the area has some of the most spectacular scenery one could ever visit and see.