Rail Trail

On Road

Potential Rail Trail

Other Trail

Former Railway
Rail Trail

On Road

Potential RT

Other Trail

Former Railway
View Map
At 161 km in length, it is Australia's longest rail trail
Gently undulating through mostly farming land in the southern section, with steeper sections and bushland in the north
Heritage-listed attractions include Lockyer Creek bridge and Yimbun Tunnel
Suitable for multi-day tours, with options for fully supported tours and shuttles
Car parking is soon to be constructed at the Wulkuraka end of the trail
The rail trail connects Ipswich, Walkuraka, Fernvale, Lowood, Coominya, Esk, Toogoolawah, Harlin, Moore, Linville, Blackbutt and Yarraman.
Nearby Attractions
Close to Brisbane
Scenic rural countryside
Good climate conditions most of the year
Railway history and heritage
Food and accommodation options at the many towns along the trail
Last updated: 5 February 2023
Access points at each town are the former station sites, which have plenty of parking space
Horses must be shod
No drinking water or toilets available outside the towns listed
There are many low level crossings, where bridges are missing or have been removed
Cattle may be grazing beside the trail
Section Guides
Wulkuraka (Ipswich) to Fernvale (23 km)
Note:  There is drinking water located directly along the Brassall Bikeway (between Wulkuraka & Fernvale), immediately south of Workshops Street, and another in John Murphy Park, Brassall
The Wulkuraka Trailhead address is at 163 Grace Street, Wulkuraka
The new Wulkuraka Trail Head now has two public toilets, one being for disabled access. There is also a water bubbler on site for people to drink from, with an added doggy bowl, so owners can let their pets have a drink as well while walking along the Trail.
The trail begins on the northern side of Wulkuraka railway station. Follow the concrete bikeway along Grace Street, pass Arnold Street on the right and cross to the other side of Grace Street.
The first section to Diamantina Boulevard at the Warrego Highway underpass has a high quality concrete surface. The remainder is gravel and dirt suitable for hybrid and mountain bikes.
Continue 100 m and turn right on to Brassall Bikeway. After 150 m, turn left at the picnic shelter and enter the BVRT connection path.
Station sites along this section include Muirlea (5 km), Pine Mountain (8.6 km), Borallon (11.5 km), Wanora (15 km), Fairney View (18.5 km) and Fernvale (22.6 km. All are clearly marked.
A carpark suitable for horse floats and with CCTV security is available at the old Borallon Station site (Borallon Station Road).  A horse watering trough (with a detection device that keeps it permanently topped up) connected to a large water tank is available, and large shade shelter for all Trail users has been installed.
Fernvale's facilities include the Fernvale Futures Visitor Information Centre at the station site, bakery, café, ATM and accommodation. Filtered water, WiFi and outdoor power points are available 24 hours at the front of the Information Centre. There are toilets and free electric barbeques in the park opposite the bakery.
Fernvale to Lowood (8 km)
Mainly fine compacted gravel surface, with a substantial portion of the trail now concreted between Fairney View Fernvale Road & Clive Street, Fernvale. And again, along part of the Lowood section, from the township, through part of Pete Bevan's native gardens.
Suitable for hybrid bikes, personal mobility vehicles or horse-drawn vehicles
Views of the Brisbane River in this section.
A fun run is held on the trail each July. For information about the fun run click HERE
Lowood is has basic facilities and still has its station, used by the local Lions Club, off Railway St and visible from Main St. Toilets and water are located in the park in the centre of town and the northern section of the trail has an extensive native garden display, planted and maintained by locals. Lowood Flood Boat Memorial, also in the park, commemorates rescues following devastating floods in the 1890s.
Lowood Showgrounds has horse accommodation facilities, overnight camping and caravan access.
Lowood to Esk (36 km)
Coarse gravel/dirt surface
Native bushland and farmland
Between Lowood and Coominya is the large 92m long Lockyer Creek Bridge, opened to rail trail users in 2019.
A significant feature of the area is Lake Wivenhoe, the major water source for southeast Queensland and twice the capacity of Sydney Harbour.
The intermediate town of Coominya has limited facilities. Drinking water can be bought from the supermarket, café or hotel.  There are toilets and a playground in the station park, with room for horse floats to park and offload.
Esk is the major regional centre and has most facilities. The station has been restored by the local Lions Club and the precinct is now a feature. There are many cafes and two pubs, a lovely main street and the trail passes through the middle of town. The trail through Esk has been significantly upgraded with a wide concrete boulevard, railway themed treatments and lighting over the trail itself. The former railway siding has been restored and there is a large picnic area with shelter beside the public amenities block just past the railway siding approaching the centre of Esk.
Esk to Toogoolawah (19 km)
Coarse gravel/dirt surface
Undulating farmland
Toogoolawah's facilities include a cafe that opens onto the rail trail. The station building is a small museum and regular markets are held in the former station yards. Accommodation options include the Toogoolawah Motel, Exchange Hotel and the Pedlars' Rest.
Toogoolawah to Moore (27 km)
Smooth gravel surface so suitable for hybrid bikes
Some steep descents/ascents where railway bridges have been removed; the trail dips in and out of creek beds
Undulating terrain
Near Harlin is the 100m long Yimbun Tunnel, the only tunnel on the rail trail.
A large concrete and steel bridge at Harlin was destroyed in the 2013 floods, requiring a diversion through the very small town
Moore has several places to get meals, a bed and breakfast.
Moore to Blackbutt (29 km)
This section consists of three sub-sections listed below. It includes some steep grades where railway bridges have been removed; the trail dips in and out of creek beds.
A downhill ride from Blackbutt is obviously easier going
Moore to Linville (7 km ) 
At the old Moore station, cross Linville Road and follow the road for 100m; rejoin the BVRT on the right.
Linville is a small village with a general store and a pub that has accommodation. Camping is allowed at the former railway yards. There is a new toilet and shower block at the rest area on the site of the old railway station. A new purpose built trail users accommodation facility, Linville Rail Trail Refuge, has opened in 2023.
Linville to Benarkin (18 km) 
From Linville the trail climbs the rugged and picturesque Blackbutt Range around 300m to Benarkin, but grades on the railway alignment are relatively easy.
Front suspension and gloves are recommended for riders due to the rough surface
Linville and Benarkin are small villages, each with a general store
Grass trees and many cuttings
Several stock control gates along the way: leave these as you find them
Close to the small village of Benarkin the vegetation changes to eucalyptus and scrub. Benarkin sits at the top of the range about 500 m above sea level, as do Blackbutt and Yarraman.
Benarkin is an even smaller village with a general store. Camping is allowed at the former railway yards with free public toilets available (unfortunately the showers are closed).
Benarkin to Blackbutt (5 km) 
Smooth gravel surface: can be ridden comfortably on hybrid bikes
Steady climb to Blackbutt
The Nukku siding station has been restored and relocated in the Blackbutt rail yards. Toilets are nearby in Les Muller Park, Coulson Street, Blackbutt.
Blackbutt is a regional centre and offers bakeries, cafes, supermarkets and a visitor information centre. Accommodation is available at the Hotel Radnor or at B&Bs close to the trail.
Water is available in the park at Blackbutt (next to the toilets).
Blackbutt to Yarraman (19 km)
Steady climb to the top of the range, then descent to Yarraman
Coarse gravel/dirt surface
The old Pidna station site is at Harland Park at Cooyar Creek, beside the highway
Yarraman facilities include two hotels, one motel and a caravan park, a supermarket, bakery and the Yarraman Heritage Centre, which houses the old station building
 Kingaroy Rail Trail is a 45 km drive from Yarraman
Wulkuraka railway station is the access point for public transport [2022]
From Wulkuraka station it is necessary to ride 1km along Grace St to the trail head [2022]
Current start of the rail trail proper on Grace St Wulkuraka, and also start of the Brassall Rail Trail [2022]
Construction of the Wulkuraka Trail Head is well underway in June 2022.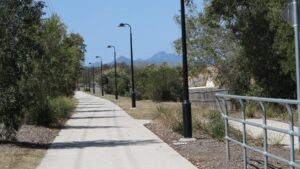 From Walkuraka to Dimantina Ave is constructed to a high standard (2018)
The section on past the Warrego Highway underpass is now also of a high standard [2020 Karen Davidson]
Borallon station site has a shelter and horse watering and hitching facilities [2023]
Take care crossing the Brisbane Valley Highway at Wanora [2017]
Typical trail conditions between Wanora and Fernvale. (2018)
Fernvale station site also has a regional information centre. (2018)
Fernvale information centre [2018]
Views of the namesake Brisbane River between Fernvale and Lowood (2018)
Lowood railway station [2019 Paul Heymans]
The Lockyer Creek bridge has been restored to make the Lowood to Coominya section a highlight [2018 Paul Heymans]
Details of the huge restoration work at the Lockyer Creek bridge looking towards Coominya [2019 Paul Heymans]
Coominya railway station [2018]
Most of the bridges have low level bypasses, providing a good look at the work of times gone by. (2018)
Typical trail surface between Coominya to Toogoolawah. (2018)
New bridge approaching Esk [2018]
The Esk station precinct is really well maintained with a great playground and park. (2019)
Esk township has lots of places of interest [2007]
Typical scenery between Esk and Ottaba. (2012)
Tranquillity walking between Ottaba and Toogoolawah [2020 Karen Davidson]
Horses riders and walkers enjoying the trail between Ottaba and Toogoolawah [2020 Karen Davidson]
Bridge with a difference at Toogoolawah [2020 Karen Davidson]
Toogoolawah station also features many events. (2016 Mark Linnett)
The trail surface from Toogoolawah to Moore is a higher standard gravel surface. (2018)
Cruising down from the only tunnel on the rail trail at Yimbun to Harlin [2021]
Shelter overlooking the Brisbane River at Harlin [2018]
Bridge bypass between Harlin and Moore [2018]
Cruising beside the Brisbane River between Harlin and Moore (2018)
There are several steep low level crossings between Harlin and Moore. Take care when slippery. (2018)
Each former station and other points of interest have signs painting a picture of the history [2020 Karen Davidson]
The rail trail has helped spur an increase in the attractions available at Moore (2018)
The trail between Moore and Linville [2020 Karen Davidson]
Linville station. There are plans for the deteriorating rollingstock (2019)
Many station sites such as at Linville and Benarkin are popular with campers enjoying the rail trail [2019]
The rail trail has helped keep Linville's businesses viable [2018]
Riding up the range from Linville to Benarkin [2013 Bruce Glover]
Horse stabling area between Linville and Benarkin [2019]
There are quite a few steep low level crossings between Linville and Benarkin. Take care when slippery. [2019]
Amenities at Benarkin [2019]
The Radnor Hotel is a feature of Blackbutt, which has many other facilities. (2018)
A lot of effort has been put into recreating the Blackbutt station, including the Roy Emerson museum (2018)
Some of the locals at Nukku. (2019)
The rail trail between Nukku and Gilla [2019]
There are about 160 of these kilometre posts for users to count (2019)
Grass trees on the approach to Yarraman (2018)
Yarraman now features a comprehensive interpretive centre (2018)
Yarraman Weir picnic area (2019)
Background Information
Traditional Owners
We acknowledge the Wakka Wakka and Yuggera people, the traditional custodians of the land and waterways on which the rail trail is situated.
Development and future of the rail trail 
The first section of the Brisbane Valley Rail Trail was constructed by the then Esk Shire between Fernvale and Lowood in 2002. Nanango Shire followed with the Linville to Blackbutt section in 2006. The Queensland Government has gradually completed other sections in conjunction with regional councils, culminating in construction of the last 30 km between Toogoolawah and Moore in 2018 by TMR.
Railway history
The rail trail follows the former Brisbane Valley railway line, which ran north from Wulkuraka (Ipswich) 161 km to Yarraman. The railway was built in stages, reaching Esk in 1886 and Yarraman in 1913.
The bridge that crosses Lockyer Creek at Clarendon is heritage listed. It has a half-through double x 2 lattice girder spans, and is one of the oldest existing metal truss bridges, with the longest span of its type in Queensland.
At one time, Linville station was the largest loading point for cattle in southeast Queensland. Passenger services operated until 1967 and freight services were reduced from 1988, with the last section closing in 1993.
Trail descriptions are maintained by volunteers. Please consider a
donation
to help improve this website. Rail Trails Australia gets no government funding.