Rail Trail

On Road

Potential Rail Trail

Other Trail

Former Railway
Rail Trail

On Road

Potential RT

Other Trail

Former Railway
Trail Potential
View Map
This proposed rail trail in the far northeast of NSW will be 128 km long when completed, traverses a World Heritage region, and passes through the centre of Byron Bay
Stage One will be the 24km section between Murwillumbah and Crabbes Creek.
Stage Two will be the 13.5km Casino to Bentley section  This railway corridor was officially closed by NSW Parliament in October 2020, paving the way for construction of Stage One in 2022 and opening of that section of trail on 1st March 2023
Richmond Valley Council is moving forward on stage 2 with a construction date to be announced in 2023
Murwillumbah is the closest town to Wollumbin (Mt Warning) and an hour from the Gold Coast and Coolangatta airport
Take a look at this Northern Rivers Rail Trail website created by Northern Rivers NSW
Nearby Attractions
The trail runs south from Murwillumbah to Mullumbimby and the coastal town of Byron Bay. It then runs inland to Bangalow and Lismore before reaching the Sydney to Brisbane main rail connection at Casino
Murwillumbah is the home of Tweed Regional Gallery, NSW's largest regional art gallery Margaret Olley Art Centre, murals and art trails. The Northern Rivers region is renowned for its arts communities and is reputed to have the greatest number of practicing artists per head of population
The region hosts a variety of music, writers', food and art festivals
Sugarcane, coffee and tropical fruits, with paddock-to-plate growers, farmers' markets and local markets
Award-winning restaurants, cafes and a variety of accommodation
The area is renowned for its weather and scenery
Less than 30 minutes drive to the Gold Coast
Last updated: 1 February 2023
Development of the Northern Rivers Rail Trail is being managed by Northern Rivers Rail Trail Inc, which includes community members, businesses and the three regional Councils.
The Tweed Section is the second pilot rail trail to be developed in NSW. At the southern end of the trail is the Casino to Bentley section, with construction to follow. The Lismore and Byron sections are yet to seek funding or to embrace the rail trail.
 This Trail is a proposed Rail Trail only at this stage.  It is not yet constructed or open.
The railway corridor is owned by the NSW State Government, and trespassing is prohibited.
UPCOMING WORKS: You may notice some people on the section of the Northern Rivers Rail Trail from Casino to Bentley over the next few months. They will be conducting a variety of works necessary for the rail trail project, including minor vegetation clearing and access point upgrades, spraying of noxious weeds in conjunction with the clearing, a biodiversity assessment, and an aerial survey commencing beginning of June 2021.
Section Guides
Stage 1: TWEED VALLEY SECTION
Condong to Crabbes Creek (24 km), funded by the NSW and Federal Governments.
In June 2021 Tweed Shire Council voted to accept the formation tender from Hazel Bros Qld Pty Ltd for $11.7 million.
This takes the trail to final design and construction planning, with construction to begin in September 2021; the trail should be operational and open by March 2023.
This 24km section passes through hills and includes several tunnels.
The picturesque town of Murwillumbah is close to the large population centres of Tweed Heads and the Gold Coast, and less than 30 minutes from the Coolangatta/Gold Coast airport, making access easy for visitors further away.
Stage 2: CASINO SECTION
Casino to Bently (13.5 km), funded by the Federal Government. A draft master plan will be  completed by December 2021.
The NSW Government gave approval in June 2021 for Richmond Valley Council to move to a detailed design and construction stage for this section. Construction will be managed by Council, eliminating the need for a tender process; this should see construction begin soon, at a date to be announced.
Stage 3: LISMORE SECTION
Bentley to Lismore (16.3 km), Lismore to Eltham  (15.5 km), Eltham to Booyong (5.9 km). Total 37.1 km
Council has included the rail trail as one of its top five projects for grant funding, and a petition asking for funding for the section between Bentley and Eltham has more than 1520 signatures.
Stage 4: BYRON LINE
A multi-modal trail for trains and a rail trail. Council is currently concentrating on the section from Sunrise in Byron to Tyagarah, hoping for around $200,000 in funding so the line can be cleared to allow the engineering company to view the bridges in detail.
Artist's impression of an idyllic Casino to Bentley rail trail when opened in 2022.
Track removal in progress between Casino and Murwillumbah [May 2022]
Naughton's Gap Tunnel will be a highlight of the Casino to Bentley section (2016)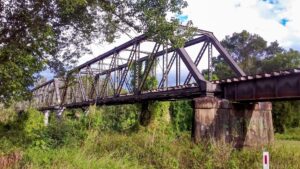 Leycester Creek Bridge at Lismore will be a real feature of the rail trail (2020)
Lismore Station will once again become a part of community life. (2013)
Long flood plain bridges near Eltham will keep users off the highway in the future (2013)
Bangalow is a town with great character (2016)
Looking from the rail corridor above Byron Bay towards the famous lighthouse (2016)
Byron Bay Railroad Company operates a heritage rail motor a few kilometres at Byron Bay (2019)
Byron Bay station precinct (2021)
Byron Bay station precinct (2021)
Mullumbimby station (2019)
Crabbes Creek will be the terminus of the first stage of the rail trail (2016)
Burringbar station site (with village out of site to left) (Geoff Bensley 2016)
Burringbar Ck bridge, one of several between between Burringbar and Murwillumbah (2017)
Burringbar tunnel between Burringbar and Murwillumbah [2017 Geoff Bensley]
The picturesque Burringbar Creek (Tweed Shire Council 2018)
Tunnel Rd bridge between Burringbar and Murwillumbah (2019)
Dunbible Creek Bridge (2019)
Stokers Siding village south of Murwillumbah (2019)
Stokers Siding village south of Murwillumbah (2019)
The views of Mt Warning National Park from the corridor south of Murwillumbah [2021]
Murwillumbah station (2016)
Artist's impression of the renewed Murwillumbah station [2021 Tweed Shire Council]
In anticipation of the new Tweed section of the rail trail the former railway station is already being used to serve future rail trail users. (2021)
The beautiful Tweed River at Murwillumbah (2016)
The views of Mt Warning National Park from the corridor in Murwillumbah [2021]
heading to Dunbible
View to Tweed art gallery
Tweed art gallery section
Sealed section towards Murwillumbah
The restored Dunbible Bridge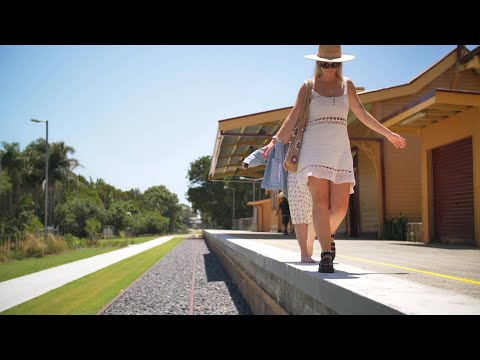 See the experiences and benefites this wonderful new rail trail will bring.
Background Information
Traditional owners
We acknowledge the Bundjalung  people, the traditional custodians of the land and waterways on which the rail trail is built.
Development and future of the rail trail 
Transport for NSW completed a Casino to Murwillumbah Transport Study in 2013, following significant community requests for the return of passenger trains. The study evaluated the feasibility, benefits and costs of reinstating passenger services in the context of the current and future transport needs of people living in the study area, and potential connections to the South East Queensland public transport network.
The study found the line would not meet current or future transport needs and there were no significant opportunities with freight or tourism that could improve its viability. It determined that the rail infrastructure has deteriorated significantly, and more than $900 million would be needed to carry out the work required to ensure the system complied with safety and operating standards for frequent and reliable train services.
The rail line does not serve the major growth corridor between Lismore, Ballina, Byron Bay as well as the rapidly growing Tweed region and connections to South East Queensland. The study recommended investigating improving bus services to provide more people with frequent, cost-effective public transport to key destinations, rather than reinstating the rail line. Improvements could include increased services on key routes, better integration of timetables between services, changing other routes to include key destinations such as education campuses and hospitals, introducing new express services on the Pacific and Bruxner Highways, and improving passenger information. It recommended that the rail remain closed. The study noted that there is community interest in using sections of the rail line for a rail trail and, subject to stakeholder interest, this could be investigated further to test costs, benefits and feasibility.
To view a PDF copy of the study click HERE. (4.3MB)
The corridor has 145 timber bridges, 13 steel bridges and nine substantial tunnels, and reinstating and maintaining rail service to current safety standards will be an expensive option.
The Casino to Murwillumbah Rail Trail Study was commissioned by Ballina MP Don Page following the release of the Transport study. Released in June 2014, it states that a 130 km rail trail on the Casino to Murwillumbah corridor would have economic benefits to local communities as well as creating employment opportunities. Given the large number of timber bridges and tunnels on the corridor the estimated cost of construction is $75 million, with an estimated annual cost for maintenance between $884,000 to $ 1.15 million; significantly less than the cost of returning trains, and expenditure that would pay for itself within five years.
To see the full report click HERE
The Tweed Section is the second pilot rail trail to be developed in NSW. At the southern end of the trail is the Casino to Bentley section, with construction to follow. The Lismore and Byron sections are yet to seek funding or to embrace the rail trail.
Rail line history
The line connected Casino (on the Sydney to Brisbane main line) with Lismore, Byron Bay and Murwillumbah. The first section opened between Lismore and Murwillumbah in 1894, connecting the Richmond and Tweed Rivers. Passengers and goods were transported to Sydney by coastal shipping from Byron Bay. Nine years later, an extension from Lismore to Casino opened (later south to Grafton; it was not until 1932 that the line was fully connected with Sydney).
As early as 1889, feasibility talks took place into extending the line north from Murwillumbah into Queensland. The line became a branch line in 1930 when the North Coast main line was extended from Kyogle into South Brisbane.
The Casino to Murwillumbah railway line ceased operations in 2004.
Trail descriptions are maintained by volunteers. Please consider a
donation
to help improve this website. Rail Trails Australia gets no government funding.