Rail Trail

On Road

Potential Rail Trail

Other Trail

Former Railway
Rail Trail

On Road

Potential RT

Other Trail

Former Railway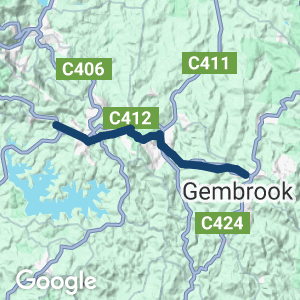 View Map
The EDRT is a challenging 15km railside path that shadows the Puffing Billy Railway line in the Dandenong Ranges
The terrain varies, from undulating to hilly, and so does the surface (asphalt, gravel, dirt) so it is most suitable for mountain bikes
The scenery is spectacular, changing regularly along the way with outstanding forests and lakes, farmland and villages
Nearby Attractions
William Ricketts Sanctuary
Heathmont to Belgrave Trail
Mt Dandenong
Menzies Creek Museum
Emerald Lake Model Railway
Last updated: 25 August 2023
This trail runs through the Dandenong Ranges from Clematis to Gembrook
While only 15km, it offers a full range of experiences – hills, forests, farms, rural villages, picnic areas and the heritage railway
It diverges from the narrow-gauge line in some places and has steeper gradients than a rail trail
Section Guides
Access Points
Clematis: Former station car park beside Paradise Valley Hotel
Emerald, Cockatoo and Gembrook: On-street parking
Emerald Lake: Several car parks and toilets
Many other parking and access points
Clematis to Emerald (3km)
Trailhead is on Belgrave-Gembrook Rd, near the bottom of Menzies Rd. More parking near Paradise Valley Hotel, in the Clematis Station car park. Alternatively, you can catch Puffing Billy to Menzies Creek and walk from there
Travel a short distance past the Clematis Station shelter before crossing the tracks and Edenmont Rd
Trail parallels the north side of the tracks up Emerald Bank (if you're lucky, you'll see Puffing Billy working hard up this climb), before crossing Pinnocks Rd and the tracks
Cross Belgrave-Gembrook Rd to enter Memorial Ave Reserve (southwest (right) side of tracks)
There are many shops and eateries, including the famous Emerald Village Bakery, to your left
Emerald to Emerald Lake (3km)
Cross railway line and Kilvington Drive. Trail resumes next to Gem Community Arts Centre
Follow the blue recycled-plastic signs with yellow writing and arrows, which call the next section the Emerald-Cockatoo Trail
After a short distance, cross into Pepi's Land on the southern side of the tracks
At Beaconsfield-Emerald Rd (C406), cross the tracks and road, taking care as it can be very busy
Turn left on the shared path beside Princes Ave and then right past the Emerald Museum (see map).
Follow main trail to Western Car Park and then Wombat Corner, home of a children's camp
Emerald Lake to Cockatoo (5km)
From Wombat Corner, pass beside the gate onto a beautiful, fern-lined trail that follows Wattle Creek, before crossing a sweeping shared bridge over it to arrive at Wright Rd
Cross Wright Rd and follow the trail to the right until the railway is crossed again, this time near Wright Station
Pass through the gates to the left and follow Wright Rd into Wright Forest
Staying on Wright Rd, turn left before Baker St gate onto Boundary Tk and follow it down a steep decline
Turn right, down another decline, to cross the shared bridge over Cockatoo Creek
Continue on the trail into Cockatoo after crossing McBride St
Continue up McBride St on the shared path crossing Healesville-Koo Wee Rup Rd (C411)
Cockatoo has a good shopping precinct
Cockatoo to Gembrook (6km)
The trail continues up Fairbridge Lane past a supermarket and turns right on Belgrave-Gembrook Rd, passing Cockatoo Primary School and going onto Old Gembrook Rd
Continue along the trail until Doonaha Rd
Cross the often-busy B-G Rd with care and continue on the trail beside Fielder Rd
Another crossing of B-G Rd is needed at the intriguing Mapleridge Local Produce Centre
The trail follows the railway corridor the rest of the way
At the top of the hill, just after crossing Orchard Rd, is the Gembrook Sports Ground and your final track crossing chicane
Continue on the trail and again cross B-G Rd on the outskirts of Gembrook
Follow the trail along Station Rd to the end at Main St
There are many shops and cafes in Gembrook, all on this thoroughfare
Explorer route
For that immersive rail trail experience in Emerald Lake Park, walkers can follow Nobelius Tk and Nobelius Link Tk to stick closer to the railway line (see map)
The trailhead in Clematis could use a raised shared crossing [2023]
The Clematis Book Exchange is on southern side of the line [2023]
Rider coming down Emerald Bank towards Clematis [2023]
Sign at Emerald dates back to when the trail was a bit shorter (2020)
Cruising along the trail through Pepi's Land east of Emerald [2020]
Farewelling the tourists leaving Lakeside on the trip to Belgrave [2023]
Paddle boats are a popular attraction at Emerald Lake Park [2023]
Trail users enjoy the serenity from Lakeside to Wombat Corner [2023]
Puffing Billy NA class 8A on the embankment before Gembrook [2023]
The last of many chicanes before the trail ends at Gembrook [2023]
Gembrook offers a wide range of services and even a small car museum [2023]
The Gembrook railyard is a popular spot for shunting photos [2023]
You can get bicycles carried back to Belgrave on the train [2023]
Posted: 03/05/23
The catchily-named Eastern Dandenong Ranges Trail will have its 800m extension from Edenmont Rd to ...
More...
Posted: 22/02/23
The "Puffing Billy trail" is getting closer to the iconic Victorian steam train's Belgrave ...
More...
Trail descriptions are maintained by volunteers. Please consider a
donation
to help improve this website. Rail Trails Australia gets no government funding.